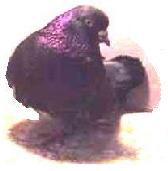 My history with the parlors started back in the mid 60's when my dad purchased a pair to play with as a kid. Then in the early 80's, there was a fellow by the name of Herman Messimore from North Carolina who had some of the finest parlors I have ever seen roll. I had parlors on and off between the 60's and 80's. I then purchased a few pairs from Herman and worked with those for a few years. In the early 90's, I learned of Norm McMurray, who I heard had the best parlors in the country. I purchased a few pairs from Norm. That is when I got the fever for rolling parlors. That was the first time I ever seen a parlor roll more than 50'.
At the National in Lancaster Pennsylvania, I had a parlor roll 139'4" that earned . .
Reserve Grand National Champion

I have since acquired a few more birds from Dusty and Dolly Crammer and Terry Duez.